Rooms
Dormitories are furnished with double-deck beds which have curtains to protect privacy.
A twin rom has one double-deck bed. A family room has two double-deck beds.
Japanese style room is for up to 3 persons.
Living Room

Living Room is furnished with a kitchen system, refrigirator, rice cooker, toaster, microwave, cook ware and table ware. Guests can use all these for free.
TV and personal computers are set here for free use.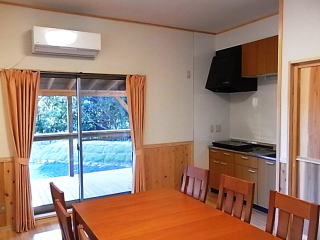 Veranda
Outside of the living room, there is a veranda with roof. Smoking is permitted on this veranda. Please note that all rooms are no smoking area.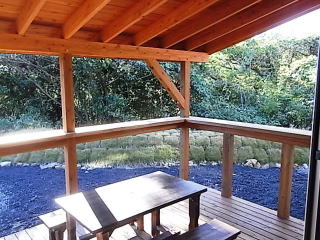 Clothes-drying place
Guests can dry clothes and rain wears at the clothes-drying place with polycarbonte roof.
Washing machine and dryer are furnished here.

Shower Rooms and Bath Room
Building-A has two shower rooms and Building-B has a Bath Room.
Guests can use these facilities anytime. Sorp and Shampoo are prepared. Please bring your towel.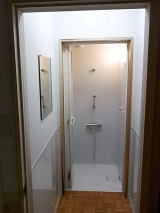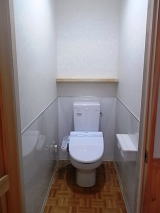 Wash Rooms
We adopt the Washlet System.

Internet
Guests can use wired or non-wired LAN system in any rooms for free.
Free personal computers are prepared in the rounge.

Others Infomation
●We prepare some retort-packed foods such as curry, spagetti, Japanese Ramen, etc. and also canned beer, soft-drink and ice-cream.
●Rental Bicycles ( \800 for a day)
●We prepare special guide plans of trekking, mountain climbing, stream climbing, river-kayak, etc...
●
Baggages
can be kept at Front Desk.
---